Are you ready for some football?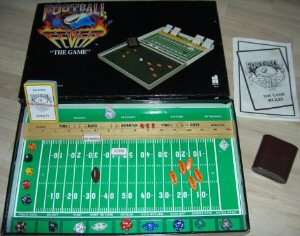 Football Fever™
is an exciting football board game that was manufactured by John N. Hansen Co., Inc. back in the early 1980s. As it is no longer manufactured, you may find it difficult to purchase - eBay.com might be a useful source, though.
But even if you do not have the board game at hand, you can still play the game, if you have an online connection (which, apparently, you do ;) ).
All you need is:
The Game Rules
(PDF/1157 kB/last updated: 28 January 2023)
The Game Rules providing the original basics of Football Fever™.
The QFL Rules
(PDF/484 kB/last updated: 28 January 2023)
The QFL Rules are modifications and additions made to fit the modern game of NFL football.
The NFL Rule Book
(PDF/6529 kB/last updated: 28 January 2023)
Might turn out helpful when playing under current QFL rules.
Notepad (or pen and paper)
to note down the scores, the spot of the ball, the down and yards-to-go and the time left on the game clock.
Objects that can be used to make the defensive play calls
e.g. Scrabble™ tiles lettered "R" (run defense), "P" (pass defense), "B" (blitz defense) and "S" (special-team/block defense). Put the object representing your defensive call upside down on the table and do not reveal it until the offensive call has been made (in accordance with Game Rule 3.6.1).
The New QFL Dice Roller
created by our QFL Vice President - just enter the calls, a keyword and an ID number, click "Roll the dice" and have the result displayed.
And now - are you ready for some Football Fever™?