Eagle Eyes send Sparrows to the playoffs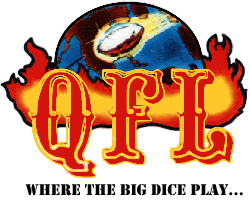 The
Eagle Eyes
(2-4) finished their season with a 24-14 win over the
Dicey Beasts
(1-5), sending
Niners Sparrows
(3-3) to the playoffs.
Niners Sparrows
(3-3) claimed the wild card from the
Prussian Warriors
(3-3) on the strength-of-victory tiebreaker due to the
Eagle Eyes
' win.
The Sparrows return to "there he gore's dome" to face hosts
Flash 80s
(6-0) in the divisional playoffs a week after losing their regular-season finale at the same venue.
Also under way is the other divisional playoff game at Silent Field Stadium where #2 seed
silentsound's Silentknights
(4-2) are hosting #3 seed
Jetto Basterds
(4-2) in a battle for a Fever Bowl berth.
Divisional Playoffs:Niners Sparrows 0, Flash 80s 3 (QTR1, 5:36)Jetto Basterds 24, silentsound's Silentknights 10 (QTR3, 7:12)
Ice Bowl IV under way
Under way is the QFL All-Star Game "Ice Bowl" featuring the
Eagle Eyes
offense and the
frontmodes Kobras
defense for The Alpines as well as the
Prussian Warriors
offense and the
owl49er's billygoats
defense for The Nordics.
Ice Bowl IV: The Alpines 7, The Nordics 0 (QTR1, 11:24)