'Knights and Eagle Eyes go to Fever Bowl V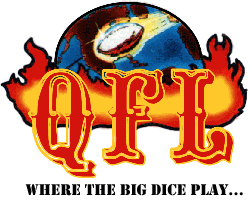 Week 6: Jetto Basterds 20, Eagle Eyes 30 (QTR3, 1:36)
The
Eagle Eyes
(4-1) have already booked their ticket to the Fever Bowl as they hold the tiebreaker over the
Jetto Basterds
(3-2). Still, the reigning champions seek to exit the season with a statement.
Week 6: frontmodes Kobras 17, silentsound's Silentknights 30 (Final)
silentsound's Silentknights
(3-3) are Northern Division champions and will go to Fever Bowl V. After going up 27-0 in the first half, they fought off
frontmodes Kobras
' (2-4) comeback bid and held on to win by a score of 30-17.
Week 6: Niners Sparrows 15, Prussian Warriors 13 (Final)
Earlier, the
Prussian Warriors
(2-4) lost to
Niners Sparrows
(3-3) on a late field goal, thus extending their long wait for a return to the postseason.
The QFL have announced that the Snakepit Arena, home of
frontmodes Kobras
, will be hosting Fever Bowl V. Accordingly, refereeing duties have been awarded to frontmode. Even though the final game of the regular season is still under way, both Division champions have already been identified by the results of the other two regular-season finales. Northern champions silentsound's Silentknights ... [
Read
]