billygoats and Beasts open their winning accounts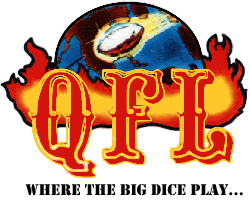 owl49er's billygoats
(1-3) opened their winning account of the season with a comprehensive 38-14 over last season's Fever Bowl runner-ups
Eagle Eyes
(1-3).
The billygoats who were cleary outgained by the opposition profiteered from 6-0 turnovers and 21 points scored off turnovers.
Elsewhere, the
Dicey Beasts
(1-3) scored a FG, a safety and a TD in the fourth quarter to prevent
Niners Sparrows
(3-2) from clinching their division.
The Sparrows had cancelled out a 10-point deficit in the third quarter before late miscues allowed the Beasts to pull out a 25-13 win.
The Sparrows are still favorites to win the South as they hold the tiebreakers over their divisional rivals while the race for the wild card remains wide open.
With the Sparrows' loss, the
Flash 80s
have clinched the #1 seed for the playoffs.
Currently under way
Week 6:frontmodes Kobras 17, Eagle Eyes 3 (QTR3, 14:36)Prussian Warriors 23, Dicey Beasts 21 (QTR4, 13:12)Flash 80s 23, Jetto Basterds 19 (Final)owl49er's billygoats 7, silentsound's Silentknights 23 (QTR4, 6:00)Bye: Niners Sparrows