Warriors eliminate Beasts and Kobras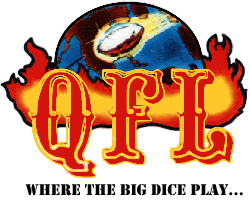 The
Prussian Warriors
remain frontrunners in the wild-card race and control their own playoff destiny going into their regular-season finale.
The Warriors (3-2) came from behind to beat the
Dicey Beasts
(1-4) 29-21 who, previously, had made up a 17-point deficit but then fell short due to three fourth-quarter Warriors' field goals.
While the Warriors can clinch their second postseason spot in franchise history with a win against already eliminated
owl49er's billygoats
, the Beasts will miss out on the playoffs for a second straight season.
Also joining the billygoats on the list of teams mathematically eliminated are
frontmodes Kobras
while the
Eagle Eyes
will remain hopeful if they pull out a comeback win against the Kobras.
Currently under way
Week 6:frontmodes Kobras 20, Eagle Eyes 10 (QTR4, 5:24)Prussian Warriors 29, Dicey Beasts 21 (Final)Flash 80s 23, Jetto Basterds 19 (Final)owl49er's billygoats 15, silentsound's Silentknights 23 (Final)Bye: Niners Sparrows