Expansion Basterds earliest team to clinch a division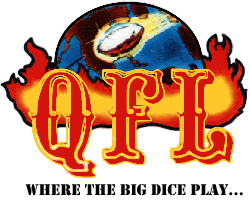 The
Jetto Basterds
(4-0) beat the
Dicey Beasts
(0-3) in a quite remarkable game which remained scoreless until the fourth quarter before ending in dramatic fashion.
The Basterds are the earliest team to ever clinch a divisional title and uphold their perfect franchise history. The Beasts will have to win out and hope for some help in order to win the wild card.
Also eyeing to prematurely clinch their division are the
Flash 80s
(3-0) hosting
frontmodes Kobras
(1-1) while
owl49er's billygoats
(0-2) hope to keep their playoff hopes alive with a win over the visiting
Niners Sparrows
(2-1).
Week 4:Jetto Basterds 14, Dicey Beasts 7 (Final)Niners Sparrows 13, owl49er's billygoats 10 (QTR2, 3:12)frontmodes Kobras 28, Flash 80s 23 (QTR4, 13:36)Bye: Eagle Eyes, silentsound's Silentknights, Prussian Warriors
Also under way is the first game of week 5 with the aforementioned Basterds (4-0) visiting silentsound's Silentnights (1-2) who will try to bounce back from two straight losses.
Week 5:Eagle Eyes @ owl49er's billygoatsDicey Beasts @ Niners SparrowsJetto Basterds 7, silentsound's Silentknights 9 (QTR2, 6:12)Prussian Warriors @ frontmodes KobrasBye: Flash 80s