North wide open; Sparrows eliminated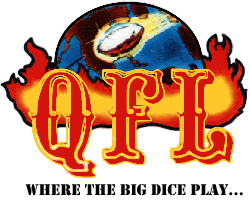 The
Prussian Warriors
(2-2) survived a late comeback bid and beat
frontmodes Kobras
(2-2) 44-36 to go tied for first place. The Warriors have the tiebreaker at least for now.
As
silentsound's Silentknights
(1-3) beat
Niners Sparrows
(1-3) 36-27, the Northern Fever Bowl berth is up for grabs for anyone while the Sparrows have been eliminated in the South.
The
Eagle Eyes
(2-1) lead the undefeated
Jetto Basterds
(3-0) by 21 in the middle of the third quarter. It is highly likely that their rematch in week 6 will be the Southern decider.
Week 4:silentsound's Silentknights 36, Niners Sparrows 27 (Final)Prussian Warriors 44, frontmodes Kobras 36 (Final)Eagle Eyes 24, Jetto Basterds 3 (QTR3, 7:24)
Week 5:frontmodes Kobras @ Eagle EyesNiners Sparrows @ Jetto BasterdsPrussian Warriors 0, silentsound's Silentknights 0 (QTR1, 13:12)