Basterds can lose after all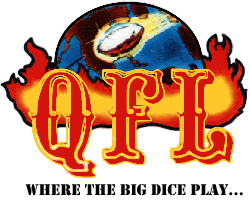 The
Jetto Basterds
(4-1) were handed their first defeat in franchise history by
silentsound's Silentknights
(2-2) who won by a score of 18-17.
The 'Knights scored on a 12-yd TD pass with 4:12 to play and then impressively held on to their minimum lead. With this win, the QFL charter members have kept their hopes for their first ever playoff spot alive.
The Basterds were the first franchise in QFL history to win each of their first four matches and had already clinched the Australian Division title.
To clinch a home game in die Divisionals Playoffs, they may still need another victory from their regular-season finale against the 4-0
Flash 80s
and their fierce #1 defense.
Yet another heartbreak for the Kobras
A week after blowing a 28-point lead against the
Flash 80s
,
frontmodes Kobras
(1-3) cancelled out a 20-point deficit and took the lead against the
Prussian Warriors
(2-2) early in the fourth quarter but fell behind again only a few seconds later.
After reclaiming their lead, the Warriors saw off the Kobras 38-30 in a highly entertaining affair which included dubious special teaming and, at the latter stages, also somewhat obscure coaching from both sides.
Even though the conference standings display the Warriors as frontrunners for the wild card, they do not control their own destiny as, in addition to winning out, they will also need the
Eagle Eyes
(1-2) to lose or tie one of their remaining games.
Currently under way
At present, games from three different matchweeks are under way.
Week 4: Niners Sparrows 20, owl49er's billygoats 13 (QTR4, 12:24)
Week 5: Eagle Eyes 0, owl49er's billygoats 7 (QTR1, 10:12)
Week 5: Dicey Beasts 0, Niners Sparrows 0 (QTR1, 15:00)
Week 6: Flash 80s 3, Jetto Basterds 13 (QTR2, 6:24)