5 of 6 teams still in the mix going into week 6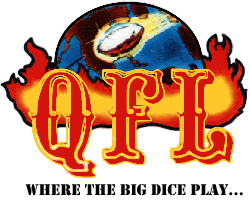 The
Eagle Eyes
(4-1) comprehensively beat
frontmodes Kobras
by 30-3 and will qualify for their second ever Fever Bowl appearance if they do not lose their regular-season finale against rivals
Jetto Basterds
.
Week 5: Niners Sparrows 32, Jetto Basterds 23 (QTR4, 3:24)
The Basterds (3-1) are likely to lose to the Sparrows which means that, to return to the Fever Bowl, not only will they need to beat the
Eagle Eyes
, they will also need help from the Kobras or Warriors.
The Sparrows (1-3) are still the only team eliminated from Fever-Bowl contention going into the regular-season finales.
Desite their heavy defeat,
frontmodes Kobras
(2-3) still control their own destiny and will qualify for their first ever Fever Bowl if they beat
silentsound's Silentknights
(2-3).
The 'Knights will need to beat the Kobras and hope for help from the
Eagle Eyes
or Sparrows who will play the
Prussian Warriors
(2-3) which are in need of wins from the 'Knights and Basterds.
Week 5:frontmodes Kobras 3, Eagle Eyes 30 (Final)Niners Sparrows 32, Jetto Basterds 23 (QTR4, 3:24)Prussian Warriors 0, silentsound's Silentknights 21 (Final)
Week 6:frontmodes Kobras @ silentsound's SilentknightsNiners Sparrows @ Prussian WarriorsJetto Basterds @ Eagle Eyes