Season V is under way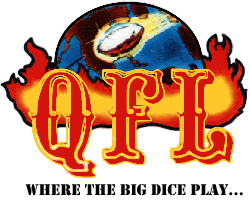 Defending QFL champions
Jetto Basterds
(2-0) started their title defense with two consecutive wins as they steamrolled over their opposition in the fourth quarter of a 52-21 win over
Niners Sparrows
(0-2).
The
Eagle Eyes
(2-0) showed they are prepared to bounce back from their previous subpar season as they beat
silentsound's Silentknights
33-23 to stay tied for first place in the South.
frontmodes Kobras
(2-0) held on to a 24-17 win as they beat the
Prussian Warriors
(0-2) for the first time in franchise history to go into week 3 with a two-game lead in the North.
Week 2:frontmodes Kobras 24, Prussian Warriors 17 (Final)Jetto Basterds 52, Niners Sparrows 21 (Final)Eagle Eyes 33, silentsound's Silentknights 23 (Final)
Week 3:Niners Sparrows 7, Eagle Eyes 0 (QTR1, 8:48)silentsound's Silentknights 0, Prussian Warriors 0 (QTR1, 14:12)Jetto Basterds 0, frontmodes Kobras 0 (QTR1, 10:36)