Playoff race wide open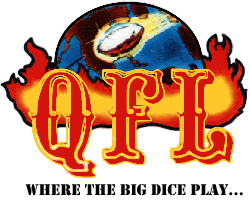 The race for the remaining two playoff spots is wide open as
silentsound's Silentknights
seem poised to take advantage of the
Prussian Warriors
struggling.
While the 'Knights lead
frontmodes Kobras
by a TD at halftime, the Warriors are traling
owl49er's billygoats
by a TD with TPC late in the third quarter.
The other two games are still in their early stages but may very well both turn out decisive at the end of the day.
Week 7:Niners Sparrows 0, Flash 80s 0 (QTR1, 8:12)silentsound's Silentknights 24, frontmodes Kobras 17 (QTR3, 10:36)owl49er's billygoats 25, Prussian Warriors 17 (QTR3, 2:00)Dicey Beasts 7, Eagle Eyes 3 (QTR1, 8:24)Bye: Jetto Basterds
Prior to the regular-season finales, three teams are still in the hunt for two playoff spots up for grabs. While
Niners Sparrows
and the
Prussian Warriors
control their own destinies as frontrunners for the remaining playoff spots, the silentsound's Silentknights remain in the hunt, hoping to capitalize from a loss of one of the former two. The
Flash 80s
and the
Jetto Basterds
have already ... [
Read
]