Comeback kids remain perfect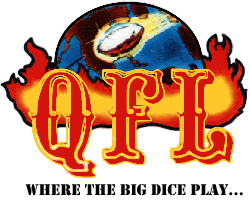 The
Flash 80s
(5-0) came from behind again and scored two late touchdowns within three minuts to beat the
Jetto Basterds
(4-2) 23-19.
With yet another double-digit comeback, the
Flash 80s
kept their perfect season intact and clinched home-field advantage for a Divisional Playoff game. They have trailed by at least 7 points in four of their five wins.
The ballhawking Basterds again forced four turnovers but still suffered their second straight defeat since clinching their division as the earliest team in QFL history. They may now have to travel in the Divisional Playoffs.
Currently under way
Week 5: Dicey Beasts 25, Niners Sparrows 13 (QTR4, 3:24)
Niners Sparrows
(3-1) are hosting the
Dicey Beasts
(0-3) and need one more win from their last two matches or one loss from
silentsound's Silentknights
(2-2) in order to clinch the Southern Division.
Week 5: Eagle Eyes 7, owl49er's billygoats 38 (QTR4, 3:48)
The billygoats (0-3) are currently hosting the
Eagle Eyes
(1-2) in a matchup of two longshots in the wild-card race with only the winner maintaining hopes to make it to the postseason.