Playoff race: 'Knights beat the odds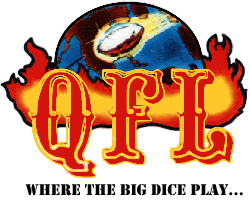 Underdogs
silentsound's Silentknights
have booked their first ever trip to the QFL playoffs. They were the last active charter member who had not played a playoff game.
The 'Knights did their job against
frontmodes Kobras
and then received the help required from
owl49er's billygoats
beating the
Prussian Warriors
.
The Warriors can still hold out hopes, however, they need help from both the
Flash 80s
(against
Niners Sparrows
) and the
Dicey Beasts
(against the
Eagle Eyes
) to win the remaining spot at the expense of the Sparrows.
Week 7:Niners Sparrows 17, Flash 80s 23 (QTR4, 5:48)silentsound's Silentknights 37, frontmodes Kobras 17 (Final)owl49er's billygoats 35, Prussian Warriors 25 (Final)Dicey Beasts 14, Eagle Eyes 17 (QTR4, 12:00)Bye: Jetto Basterds
With two regular-season finales played and the other two still under way, it's time to take a closer look at the new situation. The following teams have already booked their spots:
Flash 80s
,
Jetto Basterds
, silentsound's Silentknights. Still hopeful are:
Niners Sparrows
,
Prussian Warriors
. The 80s have clinched the #1 seed and will host the wild-card team: either the 'Knights or the ... [
Read
]