Warriors challenge Kobras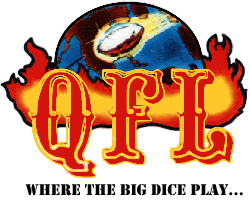 frontmodes Kobras
(2-1) seek to clinch the North and a Fever Bowl berth with another win against the
Prussian Warriors
(1-2). However, the Warriors have taken a three-score lead into the fourth quarter.
In the South, the
Eagle Eyes
(2-1) hope to bounce back from a heavy upset defeat in order to stay in control of their own postseason fate with a win against undefeated
Jetto Basterds
(3-0).
silentsound's Silentknights
(0-3) need a win against
Niners Sparrows
(1-2) and a Warriors win against the Kobras to stay alive in the North. The Sparrows also fight against mathematical elimination in the South.
Week 4:silentsound's Silentknights 36, Niners Sparrows 27 (QTR4, 1:24)Prussian Warriors 41, frontmodes Kobras 17 (QTR4, 7:12)Eagle Eyes 21, Jetto Basterds 3 (QTR2, 3:00)