Fever Bowl IV: Basterds lead in the fourth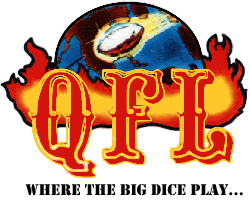 The
Jetto Basterds
extended their lead to 5 points thanks to yet another field goal, this time from 34 yds out.
The Basterds FG Die is 5-for-5 on field goals and 1-for-1 on extra points, making a strong MVD bit for his field-goal die.
Fever Bowl IV:
Jetto Basterds 22, Flash 80s 17 (QTR4, 12:12)
So far, the lead has changed five times and the winner will set a new Fever Bowl record for the biggest comeback.
Nordics dominate Ice Bowl IV
Also under way is the QFL All-Star Game "Ice Bowl" with The Alpines, consisting of the
Eagle Eyes
offense and the
frontmodes Kobras
defense, taking on The Nordics, featuring the
Prussian Warriors
offense and the
owl49er's billygoats
defense.
Since conceding a TD on the Alpines' opening drive, the Nordics have been dominating their opposition having scored 40 unanswered points, 23 of which off of six turnovers.
Ice Bowl IV: The Alpines 7, The Nordics 40 (QTR4, 9:12)